An artist, be they a stone waller, thatcher, writer, film director or painter, is someone who is able to either contribute to a landscape or encapsulate an element or a moment within a landscape. Landscapes are intrinsically linked to art. Alan Sorrell died in 1974, leaving this particularly poignant painting below on his easel: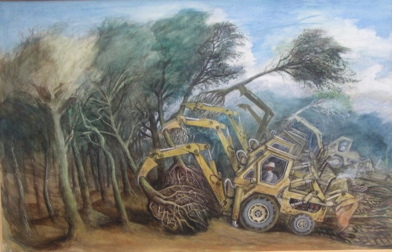 Alan was married to the well known artist Elizabeth Sorrell it was thus somewhat inevitable that their passion and skill would transfer to their children.
Their daughter Julia Sorrell RI, RBA writes exclusively for SOW –
Without doubt, trees encompass and surround us – some people just have one small tree in their garden, some go and sit under a tree in a park, and some are lucky enough to be near a wood. As a child, I was lucky to live opposite the ancient coppice woods of Daws Heath, Essex – and trees and fields surrounded our house. Many a time I would play in the woods with my brothers, or together we sat up a particular tree and let the hours slip by. Our mother would ring a hand bell for us to come to supper, for as a child, the hours slipped by.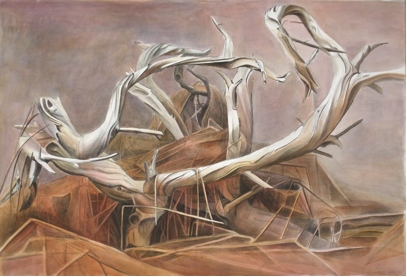 My father, Alan Sorrell, was passionate about trees, and being a prominent member of CPRE, he would physically stand between the tree-fellers and the tree itself. As he had an appalling stammer, he found by shouting he could talk coherently. The terrified men would stand transfixed as he would rush to have a preservation order put on the tree. Due to his efforts, and of others since then, that little patch of Essex countryside was preserved from urban sprawl. As a Neo-Romantic artist, wildly twisted trees blown by the wind were a characteristic feature of his work.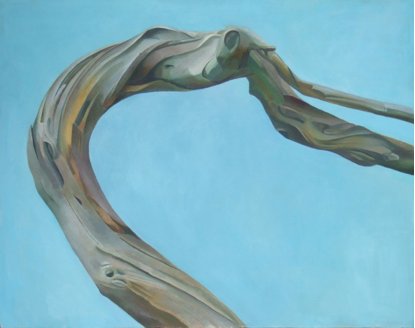 Growing up with this, it is hardly surprising that I, along with my husband Ian Sanders, have a shared passion for trees. I suppose trees create a sense of longevity, and a sense of life continuing. As an adult, I love, like the child, to kick the leaves in winter, the shade under their canopy in the summer, and to appreciate their skeletons in the winter.
Take a piece of wood, it is not long before one can see a world within it.
As an artist I use wood as a vehicle to express my emotions, and to create the link between child and adult. Now when I go and paint in the woods, children come up to me and we talk about the tree, seeing shapes within it. Thereby a sense of timelessness is captured, as here once again, children can shout, climb trees, carve their names in them and so on. Another generation is creating an intimate relationship with trees, and this will go on for evermore…
Watch Julia painting in the forest…
http://www.youtube.com/watch?v=WTjTmbKjiuA