It's with great joy that we can tell you that Government will produce an amendment that will exempt our Public Forest Estate from the Infrastructure Bill.  In two weeks time, at the third and final reading of the bill in the House of Lords before it goes to the House of Commons, we will see this amendment and hopefully it will cover what is needed for the full protection of our forests from this heinous bill.  It's important to remember that even if the Infrastructure Bill leaves the House of Lords with a clause exempting our public forests, this may get over turned when it is debated in the House of Commons. So we must remain vigilant and prepare to fight to keep our forests safe from this bill.  We have won the first of two battles.
"I have listened very carefully to what has been said in the Chamber today and listened attentively to the sentiments expressed by your Lordships' House. It has become increasingly clear to me during the course of the debate that there is still strong feeling in the House that this is an important issue on which the Government need to reflect further. Therefore, I shall seek to bring an amendment back to the House at Third Reading that will seek to exempt the public forest estate from transfer to the Homes and Communities Agency." Lord Ahmed (watch Lord Ahmed from 18:50:00 in the video below)

Last night's debate in the House of Lords was beautiful, that's the only word for it. Baroness Jan Royall spoke eloquently of the importance of our publicly owned forests and expressed perfectly the roller coaster forest campaigners have been on this past four years trying to secure ongoing protection for our publicly owned forests in a new Forestry Act.
You can hear Baroness Royall's wonderful speech for yourself from 16:14:00 on the video above. If you continue to watch you will hear other forest heroes support Baroness Royall's amendment, including Lord Clarke and Lord Greaves who, alongside Baroness Royall, were instrumental in stopping the sell off of our public forests in 2011.  Click here for the full transcript of the debate in the Hansard.
Last night 400 Hands Off Our Forest campaigners created a striking ring of light with lanterns and fire sculptures around a pond in the publicly owned Forest of Dean. It was Owen Adams, secretary for HOOF, that initially spotted the threat to our forests in the proposed new Infrastructure Bill and with fellow HOOF campaigners raised the alarm and worked tirelessly to get the bill amended. Fantastic interview with HOOF campaigners, including Owen and HOOF chairman Rich Daniels, on ITV yesterday: http://www.itv.com/news/west/update/2014-11-05/victory-for-forest-of-dean-campaigners/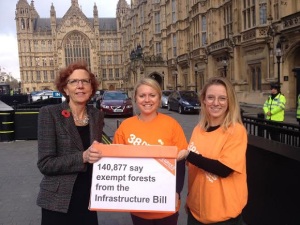 24 hours before the debate 38 Degrees started a petition to support us in our campaign to get our forests exempted from the Bill and within hours over a hundred thousand wonderful folk had signed, it was their FASTEST GROWING PETITION EVER! They presented Baroness Royall with the petition outside the Houses of Parliament before the debate.  As it stands at the moment almost 169,000 people have signed the petition to protect our public forests.
Thank you to all Save Our Woods supporters that helped us and spread the word about this campaign!
Passion to protect our forests is not going away.