Meet Save Our Woods
A bit of history
Save Our Woods (SoW) was formed in January 2011 by Hen Anderson and Karen Wilde. Our campaign grew so quickly that within a month Nick Gallop jumped in to help.
We formed Save Our Woods, a grass-roots organisation, to get to the facts behind the 2010 proposed sell off of our Public Forest Estate (PFE), which led us to campaign for the removal of the forestry clauses from the Public Bodies Bill and to ensure that our publicly owned forests remained in public ownership, in perpetuity.
SoW has never been funded, nor affiliated with any political organisation, business or NGO. We are individuals who believe passionately that publicly owned forest land should remain in public hands, in perpetuity.
Who runs SoW now?
Now, SoW is Hen and Pip.
We are currently engaged with the government working group that is helping government formulate it's response to the Forestry Panel's report. Part of this engagement includes being a part of the National Forestry Stakeholder Forum. Read more here: saveourwoods.co.uk

From our experience running the Save Our Woods campaign Pip and I also set up and run ForestComms.org. A new and unique online social platform, where anyone can share their experience, knowledge, solutions, concerns and love for our natural landscape, especially trees, woods and forests.
Hen
Co-Founder SoW & ForestComms.org
@hen4


I am passionate about sustainable land design/management and I live on a low impact small holding on the edge of an ancient Exmoor Oak woodland.
When I'm not managing the woodland, coppice, meadows, hedgerows and pasture, I weave baskets and care for dairy goats, flocks of primitive Shetland, Hebridean & Castlemilk Moorit sheep, cuckoo maran hens, rescued ex-battery hens, black indian runner ducks & a collie called Willow. Keeping within conservation levels of stock numbers, I'm about to expand the farming aspect of what I do as part of my subsistence, low impact, lifestyle.
Hen's blog – Heart and Soil
Pip Howard
Co-Founder ForestComms.org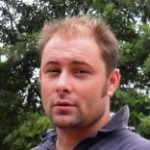 I am a forester; my career started working for a private forestry company in Scotland, working principally on native woodland creation projects and agri environmental schemes. Further study introduced me to the threats to soil and I worked for a while in the landscaping and horticultural industry with a passion for traditional landscaping, which worked with nature rather than against it.
I now live and work in France, sometimes in the UK. My work is predominantly the design and planting of trees for specific purposes and ensuring their use and benefits exceed a single objective. I worry that we are yet to fully understand and realise the ideals set in motion that can propel sustainability forward and I am also passionate that the voice of the practitioner must be heard and listened to.
My blog is http://europeantrees.wordpress.com
——————————————————————————————————
The Original SoW team
Karen and Nick no longer work with SoW but are still passionately involved in connecting with our natural landscapes..
Karen
Co-founder
@wildelycreative


After a playoutdoors childhood most of my working life has been indoors, now as a writer. For a long time something was "missing" until I re-discovered a love of the outdoors I hadn't felt in years. Now, like John Burroughs, I go to nature to be soothed and healed, in a world of glorious earthy smells, pungent pine sap on the tongue, the sharp sweetness of rosehips and wood sorrel, spongy rain soaked moss. A world without contradiction or games but full of a wild, joyful existence that send shivers and sparks up my spine, electrifying and calming all at once.
Spending time in woodlands has given me a deeper understanding of how our emotional, physical and spiritual lives are intrinsically connected to the natural world; we are a microcosm of it. The more it fragments, the more we're disconnected from a landscape necessary for our survival. I don't want that to happen.
Karen's blog – The Cloud Factory
Nick
@WildLives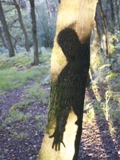 For quite a while now woods have been a really important part of my life. My day job is in IT but as an antidote nearly all my spare time is spent writing about the outdoors, photographing the outdoors, thinking about the outdoors or teaching in the outdoors. Sometimes whole weekends are spent just mooching around the countryside with Gertie the dog who enjoys woods even more than I do!
The more I get to know our woodlands, the more I appreciate their resilience under the onslaught of our continual development, their delicate balance but above all their importance to each and every one of us (whether we realise it or not!). From their part in the wider environment to simply providing somewhere for us to go to think, walk the dog or to feel at one with nature, these places are key to our well being and our future. I'd hate to see this jeopardised.
Nick's blog – Skills For Wild Lives
… miss you guys… xx