It seems like such a long time ago that we were all rallying in our local woods, starting campaigns, tweeting, facebooking and blogging ourselves to exhaustion about the Public Bodies Bill and the Public Forest Sell Off.
It was only 19 days ago…
No, we couldn't believe it either when we checked and then checked again!  SOW have still been working full time on the campaign since that exciting day on the 17th Feb, when, after massive public pressure, the government removed the forestry clauses from the Public Bodies Bill and stopped the flawed Public Consultation. If the campaign was a success, why are we still working our socks off to protect our forests?
So what's happening now?
The government are now creating a small Independent panel to sort out the 'problem' of the Forestry Commission & the ownership/management of the PFE. We will be publishing an article explaining more about the independent panel later on tonight.
Suffice to say the panel has still not been named, there have been no terms of reference published and it is unclear if the public voice will be heard. It's just as important as ever to keep up the pressure and get our voices heard. The independent panel MUST know just how important our woodlands are to us!
Forest Campaigns Network
In the beautiful Forest of Dean last Saturday, Hen attended a gathering of forest campaigns, including HOOF, Cannock Chase, Sherwood Forest, Save Our Forest, 38 Degrees etc.. That day, the Forest Campaigns Network was born: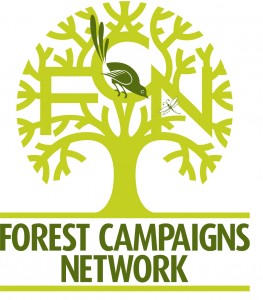 The FCN will come together to make the campaign, to protect and enhance our public forest estate, stronger. If you are a campaign group and you would like to be a member of the FCN please get in touch.
Celebrate Our Forests Day – 20th March 2011
It was also agreed that we should have a day where we go out and celebrate our local woodlands.  It's Spring, what better time than now to get out there and show just how much we love our woods!
The 20th March will be Celebrate Our Forests day! We need you to wear something yellow and then get out into the woods and enjoy them! Take as many pictures as you can and share them with us, so we can tell the world just how much our woods mean to us. HOOF have done a fabulous press release sharing with us some great ideas and what they've organised and 38 Degrees have created a web tool where you can log your events or look up an event to attend: Save Our Forests Get Together Central!
So, as you can see, the campaign is FAR from over and we need YOU to keep sharing your love for woodlands and trees with us. That way we can help to forge a sustainable, diverse and vibrant future for our Public Forests.