Any progression towards full sustainable land management in the UK by balancing social, economic and environmental needs and in particular bringing biodiversity into the urban landscapes where it is desperately needed for the well being of us all is thwarted by Network Rail.
Network Rail are custodians of the largest green artery to connect our rural and urban landscapes – those few metres of land either side of a rail track our biodiversity depend upon. A charge they do not take proper responsibility for.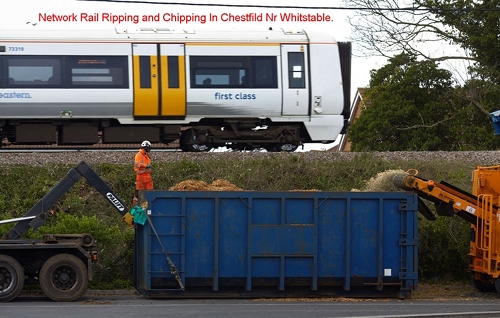 Wild flora and fauna cannot exist in small isolated pockets, for an ecosystem to work there has to be connection to the wider landscape and further. The green verges of railways are the most numerous and most vitally important doorway through the infrastructure barrier that surrounds our towns and cities for wildlife to enter. It can then disperse, grabbing opportunistic parks, gardens and derelict areas to spread out. Modern landscape architects and landscape practitioners working in the urban environment have realised the importance of green space that works with nature and most new design incorporates significant measures to encourage biodiversity. But such design is useless if the biodiversity cannot reach such green space and this is why railway verges have an immense value in ensuring ecosystem services can be established within our cities.
Network Rail publicity talk of their responsibility of maintaining these green corridors but they do not and never have put these words into practice.   http://www.networkrail.co.uk/aspx/7700.aspx
Network Rail are destroying large areas rich in biodiversity, their quick, easy and lazy method of railway line side vegetation management blocks these veins pumping biodiversity into our cities – a heart attack for ecosystem services. They continue to carry out some of this work at the time when the areas are most active, during spring and early summer razing all vegetation, leaving a glyphosate saturated desert where once were animal habitats as isolating biodiversity either side of the area.
Surely today, no Quango, no Trust or PLC could be allowed to get away with such serious and certainly illegal mismanagement as their work clearly destroys nesting birds. But Network Rail is a private ltd company by guarantee – it has neither shareholders to answer to or has to adhere to directives governing public bodies, (and is thus not subject to the Environmental Information Regulations 2004 or the Freedom of Information Act 2000).
Network Rail publicise a relationship with the Quango Natural England, to claim good environmental stewardship, whilst in fact this relationship is confined to SSSI's on NR land and they are no more than fulfilling the duties laid down in relevant SSSI citations. Certainly with regards all other regulations to protect natural elements of the landscape Network Rail are able, with surprising ease, to ignore all. Network rail are even exempt in requiring a felling licence because of 'safety' issues – but photographic evidence clearly shows felling well beyond a 6m buffer zone.
Network Rail sub contract out their landside management; it is the contractors who win the tenders for the clearance operations who (in any normal procedure) would be subject to fulfilling the obligations of tree felling licences and environmental regulations. Yet Network Rail are surprisingly reticent to forward protest with regards fairly obvious, but difficult to prove, illegal destruction of habitats on to their sub contractors. Being a Private Ltd Company allows NR to go with the cheapest tender without any need to consider other issues. And as any arboricultural or forestry contractors who take their environmental and legal responsibilities seriously cost more, less responsible firms reliant on cheap labour are able to win through. Network Rail uses their immunity in normal procedure vigorously to protect these sub contractors from prosecution and in doing so disenfranchising the skills and knowledge of conservationists, arboriculturists and foresters able to carry out the work with sensitivity.
As far as excuses by Network Rail it is all to do with Health and Safety – falling branches, trees and leaves on the line. As proven elsewhere in the world just a little tweaking of management for just a little more money (and bearing in mind 40% of funding comes from the taxpayer anyway and yet Network Rail pay out huge bonuses merely to retain top management linking them in with a system similar to the banking culture no one can anymore justify) can result in a win, win, win situation where the vegetation helps to protect the actual foundations of the rail network as well as providing profits from timber management  and protecting and even enhancing the biodiversity corridors, a by product of what is the most sustainable long distance transport option we have for the future (in other words Sustainable Development).
Victorian railway construction to ensure a level track were huge feats of engineering using little machinery and using the soil and the vegetation which grew in it to maximum effect. Such interconnected engineering was copied across the globe and led to the recognition in many other countries in establishing the use of layering soil profiles and Erosion Preventative Vegetation (EPV) to maintain their railway engineering in the long term as well as creating and enhancing biodiversity in places it is most needed. In the UK such thinking is now alien and the adopted standard by Network Rail does not reflect the complexity of soils, landscapes and habitats railways cut through.
Current Network Rail procedure with regards vegetation management on their land undermines all other good land management practice in the UK. This must not be tolerated.
Please sign the petition created by The Tree savers – http://epetitions.direct.gov.uk/petitions/34529
Website:    http://www.thetreesavers.webeden.co.uk/ –
Facebook: http://facebook.com/TreeSavers
Twitter:     @TreeSavers