Most people believe that felling trees in the bird breeding season is illegal due to the high risk of damage and disturbance to birds, eggs and fledglings, but do you know that Network Rail still pursues major tree clearance work at this time?
Here, in the small town of Whitstable, on the East Kent coast, Network Rail is intent on felling trees on a railway embankment that serves as an important wildlife corridor and habitat for over 60 pairs of breeding birds – including song thrush and 2 other Red List species. There are slow worms, stag beetles and convolvulus moth. Bats flitter amongst the ivy and a long-eared owl has used the trees here as a winter roost – but all this is now threatened by a company that will not listen to any of the agencies advising it against tree clearance work at this time of year.
The roots of our story began on Sunday 15th April 2012, when an unsigned and undated letter was shoved through a few front doors from Capel Group Ltd – sub-contractors working for Network Rail. The letter stated:
"Due to essential lineside maintenance, we wish to inform you we will be carrying out extensive vegetation clearance in your area on behalf of Network Rail in the near future. Trees and vegetation require cutting at various locations around the network due to trees drawing excessive moisture out of the embankment and causing issues relating to track quality."
A group of 30 residents met with the contractor in a local car park and managed to dissuade him from continuing his work here. We made reports to the local Wildlife Crimes Officer, citing the Wildlife and Countryside Act 1981 under which it is an offence to disturb nesting birds. With relentless complaints, not least about the lack of notification about the work, we managed to get an unusual stay of execution for the embankment trees, pending a public meeting that took place on 3rd May 2012.We are currently pushing Network Rail to postpone the clearance work here until August – when the bird breeding season is over. In the long-term we seek to preserve not only our own wildlife corridor in Whitstable but many others, up and down the country, areas that are threatened.
This national tree clearance programme Network Rail's own consultants claim will destroy an area the size of the Forest of Dean.
We hope that, in time, our website may include other groups. We are therefore known as Tree Savers Whitstable Branch www.saverailsidetrees.webs.com.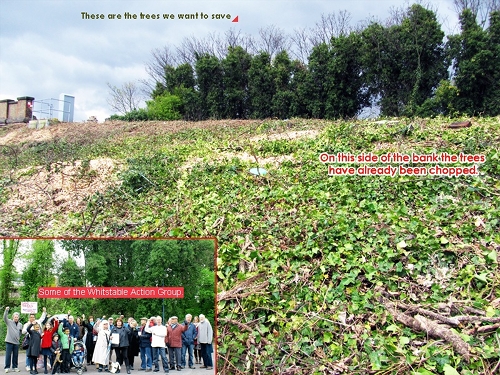 Whole areas of trees are being lost to NR's tree clearance programme – which, in some instances, goes back more than 100 ft from the lines and yet, perhaps because of our sheer tenacity here in Whitstable, our trees are still standing. We have managed to save them for over 28 days, and after 4 deferments of the work, but we are now told the chainsaws will be ready to start up again early on Monday May 28th 2012.  One of the contractor's workmen was seen doing a 'bird study' among the trees just the other day.  'What qualifications have you got to make an assessment of breeding species at this time?" asked one concerned neighbour. The contractor replied. "I've got birds in my garden." That says everything you need to know about Network Rail's environmental policies.
The potential scale of Network Rail's lineside tree clearance project (cost- £15 million per year to the taxpayer), is a national environmental disaster story. Behind the technical excuses for extensive clearance work: soil instability caused by tree roots, (evidence disputed by many respected geotechnic/soil experts) there seems almost to be a hidden agenda here: preparation for more freight transport? The using up of old budgets? Plans to use the land for future development? It all requires further investigation but Network Rail have been stonewalling their trackside neighbours and MPs for years. Tree Savers W. B. has been working non stop to glean as much information as possible, and in the process have become aware that this is by no means a problem unique to us in Cromwell Road Whitstable. What has become clear is that Network Rail is destroying vast areas of trees and vegetation while, in the process, riding rough shod over every conservation & environmental rule put in place to protect our wildlife and natural habitats. By claiming work is essential as a matter of Public Safety and using the Public Works Act as their defence, they seem to get away with this and to be accountable to no-one. This is in spite of the efforts communities, pressure groups and MPs to get this under control.
Network Rail's favoured M.O. seems to be to go in at very short notice, before people become aware of what is happening and claim technical reasons why the work needs to be done urgently. Here in Whitstable, we have discovered that Network Rail has no special (Section 16) license to complete their proposed tree clearance work as an emergency relating to an issue of public safety. Instead, the company is working to schedules, tearing up trees by the roots, clearing embankments – regardless of local protest – and often without giving any notice.
'Few studies have been carried out on the effects of woody vegetation removal on the mass stability of artificial embankments and levees. However, many of the results and findings from clear-cutting studies of natural slopes apply and are a cause for alarm in the case of a blanket, unexamined removal policy on levees. Such a policy is tantamount in effect to an uncontrolled, national experiment. One of the main arguments advanced by proponents of tree removal on levees is improved access, visibility, and flood fighting. It would be a great irony if all these goals were realized only to better witness, gain access to, and attempt to fight floods on a levee that is disintegrating and failing because of woody vegetation removal'.
Prepared by Donald H. Gray July 2009
*LITERATURE REVIEW* EFFECT OF WOODY VEGETATION REMOVAL ON THE HYDROLOGY AND STABILITY OF SLOPES.
In Cromwell Rd our homes have been built on a stream, the car park at the back of some of the houses covers an old pond. The ground is very wet, you need only to dig one foot into the soil to find water. What will happen if they take away all the trees? We don't know, but we do know we don't want to be part of a Network Rail experiment. Many people, including local children, have written to public figures, like Prince Charles, in an effort to enlist support. The campaign has snowballed due to eco 'clicktivism' – a story in itself being covered in an article in this week's Sunday Telegraph, on May 20th. Two local Lib Dem councillors have achieved contact with Transport Minister, Norman Baker, but…. Network Rail is not under ministerial control. Can the Minister do anything? Can anyone?
Everything hangs in the balance, not just for the animals and birds here in Whitstable but for nature lovers all over the country.
Over 150 people turned up (3.5.2012) to the meeting in Whitstable, arranged by Network Rail following their failure to properly notify residents concerning tree clearance on a railway embankment in Cromwell Road. Network Rail representatives were forced to allow the doors of the venue(capacity 60) to be left open so that all those who attended could hear an apology for Network Rail's lack of notification and consultation with local people regarding the work. Councillors, members of the press, photographers and a member of the N21 Rail Action Group, from Grange Park, Enfield, attended, together with people of all ages. We have discovered that there are many groups, nationwide, locked in battle with Network Rail over its indiscriminate destruction of lineside trees and vegetation but the company has a strange status and displays a  lack of accountability (it is only controlled by the Office of the Rail Regulator and then only for budgetary purposes).
A local environmental impact officer spoke of the environmental damage that would be caused by the clearance. Stating a list of birds now breeding: Blackbird (7), Blackcap (3), Blue tit (1), Chaffinch (3), Collared Dove (6), Goldfinch (3), House Sparrow (9), Song thrush (1), Starling (5), Wood pigeon (3), Wren (5), Robin (4), Great tit (1), Chiffchaff (1), Greenfinch (3), Carrion crow (1), Dunnock (3), Magpie (1)
Information was also demanded by angry residents and protesters – including the actual Powerpoint presentation. The N21 Rail Action Group has teamed up with Cromwell Road's action group and is demanding that these technical presentations are released to the public so that the information they contain can be examined by other experts. But to date we have been told we will not be allowed to have them. Only selected slides have been made available. The group of local protesters in Grange Park London (now known as Tree Savers-Grange Park Branch) fought an unsuccessful campaign to save a vast amount of trees felled there by Network Rail. During the course of that campaign, MP David Burrowes, met with Network Rail's Chief Executive, David Higgins, and was given assurances that proper consultation would, in future, take place with local communities before any tree clearance work. This was clearly not the case in Whitstable, where only a few residents received notice of the tree clearance work – and less than 24 hours before it was due to begin.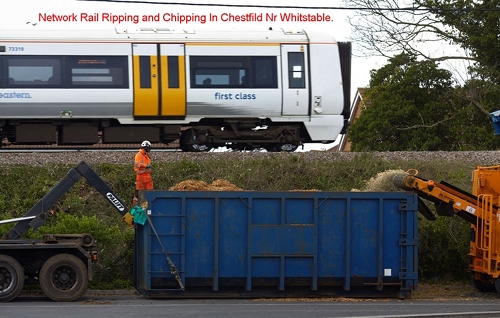 Line-side vegetation is a significant ecological asset in London. It occupies large swathes of London's 740km of railway tracks. Not only can it provide privacy and enhance the attractiveness of neighbourhoods, it also shields residents from disturbance and dust generated by passing trains. Moreover, London's biodiversity benefit from the habitats and wildlife corridors that line-side vegetation provides across the length and breadth of the capital. It is a vital green asset for Londoners. London Underground's trackside land alone amounts to 10 per cent of all green spaces in the capital and provides a home to wildlife such as kestrels, orange-tip butterflies, great spotted woodpeckers and bats. In Whitstable we have only one such line of trees in the whole town. No wooded area of any kind exists. It is our 'Green Lung' and a very important wild life corridor that we are fighting desperately hard to keep. We fought and are still fighting, tooth and nail, to preserve our trees. Posters  are up in all of our windows, we are on Twitter and Facebook, and our mailing list (of over 200 names) is growing daily. We receive messages of support and requests for help from other communities that are facing the same loss of environment to Network Rail, but the question remains: are we going to win the case for the trees' survival? If we do not, it will not be the end of it – but the beginning – as we vow to use direct action if the chainsaws arrive.
We have fallen victim to Network Rail's strategy of community disempowerment by which the company marginalises local communities and their efforts to organise and engage fairly and effectively.
This however has only strengthened our resolve. We applied under the Freedom of Information Act to see the inadequate Ecological Risk Assessments and the cursory nest studies conducted by the contractor. The more we discover – the more determined we become. All over England people have been affected by Network Rails 'scorched earth' policy.
Here in Whitstable, on Monday 28th May, Network Rail is planning to continue with its proposed tree felling works on Cromwell Road embankment from the Oxford Street bridge all the way to Steam Walk, Whitstable, Kent. If we haven't made the company see sense before then, the contractors will be felling at 8.00 am that day.
We would be grateful if you could give us any support for our campaign. We need help from people and organisations who might have a greater knowledge and bigger voice in these matters than we have. Please contact us if you feel you can help.
CONTACT Tree Savers:
Contact Julie for more information on: wassmerkas at hotmail.com, or Penny email: treesaverswhitstablebranch at hotmail.co.uk
Facebook: http://facebook.com/TreeSavers
Twitter: @TreeSavers
TreeSavers LINKS:
GRANGE PARK:  http://www.bbc.co.uk/news/uk-england-london-12511427
THE WIRRAL: http://www.liverpoolecho.co.uk/liverpool-news/local-news/2012/01/02/residents-unhappy-at-network-rail-s-plans-to-uproot-trees-in-wirral-100252-30044936/
BROCKLEY: http://brockleycentral.blogspot.co.uk/2009/01/residents-campaign-against-tree.htmlACTION
BRIDGE STATION: http://www.pardoe.net/abo/stationtreesnr.htm
SOTHHILL: http://www.solihullnews.net/news/solihull-news/2012/01/27/villagers-rail-against-train-line-tree-cutting-105074-30206095/
BATHAMPTON: http://www.guardian.co.uk/environment/blog/2009/apr/08/bathampton-tree-felling-network-rail
Chainsaw rebels':  http://www.theargus.co.uk/news/3816469.Chainsaw_rebels__station_tree_protest/Residents
Unhappy as network rail plans to uproot trees:
http://menmedia.co.uk/manchestereveningnews/news/s/1093495_rail_firm_faces_fury_over_trees
Trees Massacred!: http://www.thecomet.net/news/trees_massacred_in_network_rail_clean_up_1_1326965