Review by Pip Howard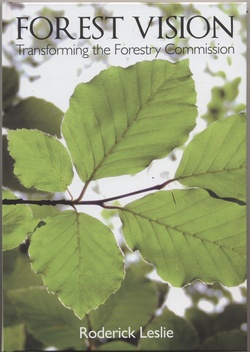 Early into the campaign against the Public Forest Estate sell off plans by the Coalition government, it became clear that many in the media, particularly many newspaper columnists, were drastically out of date with regards their viewpoint on the Forestry Commission, indeed continually around 20 – 30 years out of date. This was a major problem as they were unable to engage with the public, who did not recognise their Forestry Commission in what was being written and did not accept the vitriol of many against the forests they had come to cherish.
Those commentator's who now say 'the dust has settled' after the PFE disposal furore, are wrong. It is ongoing, there is still a need for policy makers to fulfil their promise and legislate for the protection of the PFE. Their reluctance to do so is scary, particularly after missing the golden opportunity within the last Queen's speech.
Thus, this new book by Roderick Leslie is very timely. It is the update for the last 30 years needed for anyone wishing to pass comment with regards the PFE and the Forestry Commission, not just in England but for the whole of the UK. And as so many still feel the need to pass comment, this book should sell well. Alternatively; buy it yourself to slap hard on the desk of any policy maker or other commentator who starts to display any symptoms of misunderstanding your connection to your forests.
Many, asides the government, were caught out by the campaign against the disposal of the PFE. The campaign itself became of huge interest worldwide, particularly in Europe, where it is used to assist in the burgeoning and important subsidiary industry for forestry and arboriculture – Forest Communication. The world continues to watch! And this book will not remain in England.
As forestry is so complex, yet the very backbone of sustainability, it is absolutely vital that it is better understood. Forestry is not just an industry it is an art and a science. The world we now live in needs forestry, probably more than any other industry if we are truly to create a world suitable for our children and their children. The Forestry Commission knew this a long time ago and were slowly but surely adapting to this, but, at great danger to themselves, they were doing so without fuss.
Roderick Leslie has not written this book from the sidelines, his writing is genuine, polite, passion – honed from being involved at the forefront at the PFE disposal campaign. The years of experience and pride of his, and quite clearly your, Forestry Commission, help explain, as well as any book can, the social, economic and environmental issues surrounding the FC and further highlighting its maligned importance and why it works for you not them.
You can buy A Forest Vision from Summerfield Books 
Rod contributed many times to the Save Our Woods website, click here to read his articles.