A year ago today the Save our Forests campaign forced Government to halt their sham public consultation and instead set up an Independent Panel on Forestry: (A Victorious Day – but a long way to go).
The Save our Forests campaign was a passionate and intuitive up-rising from the public in reaction to the news that Government were working on a way to 'sell-off' up to the entire Public Forest Estate. (Select Committee EU – Inquiry on Forestry).
Save Our Forests was one of the most successful online and grassroots campaigns ever.
On January the 16th Karen Wilde and I (Hen) started the Save Our Woods website and Twitter account.  We found it hard to find any facts about the 'sell off' and being experienced Twitterers we were surprised the campaign wasn't showing up on there very often.
We met on Twitter a couple of years ago now and have a lot of experience in social media, so when we were pushed over the edge to DO something about the proposed forest sell off, we were perfectly placed to make some noise and make some noise we did!
It didn't take long for the SOW website & Twitter account to take off, thanks to our fabulous followers helping us to spread the word. Almost immediately we realised we had too much work for just the both of us and roped in the inimitable Nick Gallop.
Our main aim was to give factual roots to the passionate campaigning coming from the many forest groups branching out across England. It also became clear that the wider public needed a platform to work out the issues and share their passions for woods, trees and forests too.
People that weren't part of a forest campaign group but were still engaged with the Save Our Forests campaign joined with us in their droves. Sharing with us heartfelt, beautiful and creative articles.
We learned fairly early on that there was a lot more to the emotive and intuitive call to arms we had heard initially, there was a lot of politics behind the sell off and in order to really beat the Government we needed to gain a deeper understanding about this. That's where Lord Tony Greaves came in. He not only helped us work out the complicated nature of what was going on politically but he also restored our faith in politics and in particular the House of Lords by working his socks off with Lord Clarke to prevent the sell off and the forestry changes in the Public Bodies Bill. Here's a statement he made to the House about the campaign:
http://exmoor6000trees.org.uk/saveourwoods/viewtopic.php?f=77&t=293&p=1173#p1173
It wasn't only Lord Greaves that contributed to SOW. We collaborated with many politicians, senior civil servants, professionals, journalists, experts (including Dr Oliver Rackham, Prof Peter Howard etc) and other forest campaigns, notably Save Our Forests, Save Englands Forests, 38 Degrees, One Voice, Sandlings, Cannock & HOOF, and we are a founder member of the Forest Campaigns Network. We also managed to hook in lecturer and researcher at Sunderland University Alex Lockwood. Alex has produced research on the Save Our Forests campaign and given lectures on the campaign in England and Tasmania. There has also been some fantastic research done by Oxford University MSc student Julian Cottee: Julian Cottee Oxford MSc – Save Our Forests
It was frustrating that we couldn't talk with the experts and people working in our Public Forest Estate (PFE). We wanted to gain a more objective understanding about current commercial forestry and the management of our PFE, as we no longer bought the out of date & twisted information coming from the Woodland Trust. Foresters and Forestry Commission staff were gagged and private forestry workers were too concerned about losing contracts to speak out, so we created the SOW Forum to offer a platform for anyone to have their say. Well we didn't expect it but we got some real crackers on there! Some of my personal favourites are Bembridge, Parrotbasher, Hal, SP Marsh, Devon Lad and of course European Trees (our Pip!). Even the lovely Lord Greaves used the forum. These people provided incredible insight into what was really going on behind the scenes and they worked hard with us to pick through the quagmire of spin from Government and NGO's. We are indebted to them all. Thank you!
I suppose here's as good a place as any to mention the ugly side of some of our best loved environmental NGO's during (and we now know before) the campaign. I have a deep respect for the NGO's I talk about below and still do what I can to help them in the work that they do. I understand their work is complex and in these difficult economic times, I understand that they are having to fight harder and harder to survive. However, they got it horribly wrong during the Save Our Forests campaign and not only that, they showed a manipulative side that opened my eyes to the reality of the corporate NGO.
Save Our Woods grew out of Karen, Nick and I's deep passion for woods, forests and trees and our strong belief in the vital importance of a large, publicly owned forest estate. We put our lives on hold and with no funding, PR team or huge membership we managed to raise the profile of and give factual depth to the Save Our Forest campaign online and in traditional media. So you can imagine how it felt to learn that our environmental NGO's weren't with us. In fact, they were worryingly politically tangled in the whole thing.  We were all so desperately disappointed.
It added to our workload ten fold as we wasted time countering the moves by the Woodland Trust, National Trust, RSPB and Wildlife Trusts. Something we are still shocked about. The actions of these corporate NGO's during the Save Our Forests campaign must not be forgotten. They are sitting on the forestry panel (that CAMPAIGNERS forced into existence), that will make recommendations to Government on the future of ALL woods and forests in England.
It's quite simply, appalling. 'Independent' Forestry Panel my… foot.
To be fair to the panel, their secretariat has pulled together some very interesting research which you can find on their website: Independent Panel on Forestry
On a brighter note, it didn't matter what those NGO's did or didn't do, the public fought tooth and nail for what we intuitively knew needed protection from greed, shortsightedness and a misguided view that the public wouldn't understand the issues or care!
One of our favourite SOW campaigns was the Send a Lord a Love Trees Valentine! (We jumped up and down like loon bags when Karen came up with the idea!) We were advised that there was a very important vote in the House of Lords on the forestry clauses in the Public Bodies Bill. There are a couple of hundred cross party peers (Lords & Ladies that are not affiliated to a political party) and that we could get in touch with them to ask them to vote to protect our Public Forest Estate and those tasked with caring for it. So, we rallied the troops! Hundreds of gorgeous handmade valentines pinged their way to the House of Lords!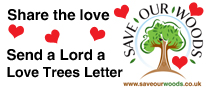 Now, Save Our Woods is me (Hen) and Pip Howard of European Trees. We are still working hard to monitor the work of the forestry panel and share it online through the website and Twitter, as well as working behind the scenes. We are also taking a look at the broader issues affecting our landscape, pulling information from experts across Europe. A woodland isn't an island, it's just a part of our landscape. Our landscape is a spectacular, interconnected, intricate web of habitats; forests, cities, farmland, rivers, mountains, estuaries… and on and on.. and must be cared for as a whole.
Pip and I are also working on the Forest Communications Network (Forest Comms). Save Our Woods highlighted a massive gap in objective communications, across the board, about woods, forests, trees and their care. Forest Comms is a platform offered to all, to fill that gap. Watch this space!
Save our Woods is also a member of a powerful ginger group, Our Forests. This group is keeping the forestry panel on it's toes by creating a fantastic Vision document and unravelling the thread of what really happened on the road to the Government deciding to sell off the Public Forest Estate.
The Forestry Panel have announced that they will be publishing in June 2012 their recommendations for the future ownership and care of England's woods and forests to Government. Who knows when the Government will act on the recommendations, in fact, who knows if the Government will act on the recommendations.
We will have to be vigilant and cross that bridge, as an army, when it comes to it.