Giraffe greetings dear Earthlings!
My name is Raph G. Neckmann and I live with my family on Giraffe World planet in Camelopardalis constellation.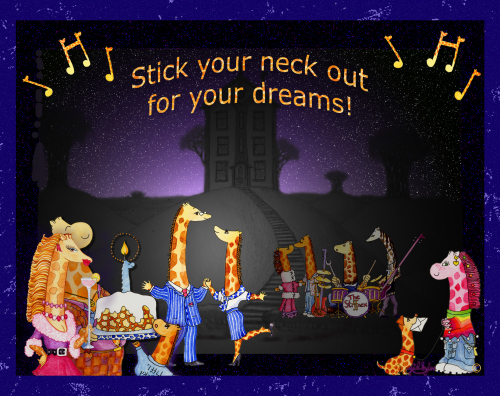 We live by our motto 'Stick your neck out for your dreams!' and I thought I would share with you our love for our planet to encourage you, as you stick your necks out to save your own beloved forests.
In our world, care of our environment is one of our highest priorities, and as you would nexpect, we particularly treasure our forests.  Just like you, we value their accessibility, and on sunny afternoons busloads of merry giraffes set off for fun family days out.
Our children love to spot the creatures of the forest, and here you can see our daughters Nexi and Necky Becky gazing in delight as two flying girigglies perform their spring dance among the dappled trees.
From the earliest age, we instil in our children respect for nature and food-growing skills.  Our toddler Littl' Nicky loves to help me dig and plant new trees!
Trees have always featured in our folklore, and just as in your planet Earth mythology, are believed to be gateways to other worlds.
We chanced upon such a secret portal in a copse of trees, from where we can visit your world and have learned to communicate with you via the Interneck.
We want to use this opportunity to congratulate you on your nexcellent efforts to save your woods,and to know you are not alone as you continue to stick your necks out for your dreams!
Raph G. Neckmann
You can accompany us on our forest walks and adventures at: