by Rod Leslie
It has just emerged that there will be no Government grants for planting new woodlands in 2014 and 2015. The result of transitional arrangements towards new European grants under the Rural Development Programme, the suspension has apparently been limited in Scotland and Wales – but not in England.
The direct impact will be the loss of some 6,000 hectares (14,800 acres) of new woodland, equivalent to roughly 6 million trees. There will be some planting in both years through existing grant contracts for the two years.
The indirect impact will be the disruption of new planting across England, with particular impact on the tree nursery trade. Rapidly changing grants making it impossible for nurseries to plan ahead were identified as a key factor leading to imports of nursery stock from abroad – responsible in part of bringing Chalara Ash disease into Britain.
The loss of momentum as tree planting drops – and the uncertainty it will create – will almost certainly have an impact on subsequent years planting, all in the wake of the Independent Forestry panel's call for more trees for England.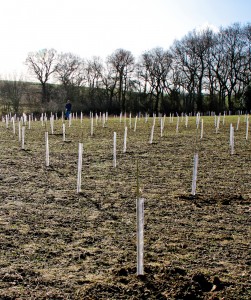 There is also a wider risk: that England will move from creating more woodland to losing woodland. Up until now legitimate woodland clearance for habitat creation like heathland has always lagged behind new planting. There is the risk that over the next few years that situation could reverse and, in the country with the second lowest woodland cover after the Netherlands, we could actually see England losing woodland.
This is not new: every transition in the CAP carries risk. The big difference to last time round is that then dedicated Forestry commission staff worked hard to make the case for trees within Defra. This time round that simply hasn't happened, sadly confirming the justification for the campaign many of us contributed to earlier this year to save Forest Services as an independent organisation.
With progress on the future of our public forests having gone quiet after almost universal condemnation of the proposals put forward by Defra in complete defiance of the Independent Forestry Panel's recommendations, the future role of Government in caring for our woodlands looks increasingly uncertain.
It can only be fair to ask whether Owen Paterson and his Department really care about our trees, woods and forests or whether they see themselves there primarily to support the farmers?
The Woodland Trust says "The total lack of understanding shown by Defra of the importance of funding for tree planting and creating new woods, on top of the recent changes in planning policy that leave ancient woodland at risk from development is extremely frustrating."
The Trust has started a petition which has rocketed to over 25,000 signatures in just a few days – please do sign it to demand continuing support for tree planting.