by the MysteryPRConsultant
In any political campaign, we deserve to know the character, values, and community contributions of the key opponents.  Further, we need to know that they are experts in the fields they are striving to influence.  Thus, in the fight for tree and forest preservation, we hope the key influencers have insider knowledge and key insights.
In this light…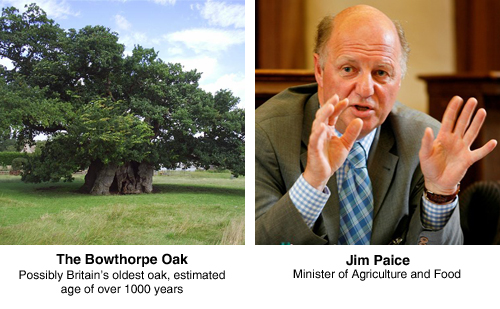 The Bowthorpe Oak
Jim Paice
Contribution to community

Habitat for birds and animals
Shade for humans and animals
Food source
Space within the tree has housed parties and the feeding of animals!
Play area for children – generations have climbed and explored the Bowthorpe Oak
Many parts of oaks are used in medicinals

MP work is funded by the community
Cost to nation
None – 'Moral' support from organisations like the Woodland Trust
Jim's basic salary is $64,766. Expenses total approx. $143K[1]
Notable achievements
In the Guinness Book of records
A broadly successful career in agriculture
Knowledge of Trees
Is a tree
Studied agriculture in the 1950's
Right to advise on importance of role of trees
Is a tree – admitted self-preservation!
Raison d'etre is agriculture
Potential for tourism dollar
Many go to see Bowthorpe Oak and donate to charity in the process
erm? We don't think so
Potential World Heritage Listing
Very possible
No
[1] Figures as reported: http://guardian.dataincubator.org/person/james-paice.html
Which of the two opponents, in your eyes, deserves to have the greater influence – and presence – in the debate about ancient forests?
Is it Jim Paice with his strong history in agricultural administration, or, the Bowthorpe Oak that has given, of itself, to multiple generations?
Leave a comment below and let us know your thoughts.
Or… if you want something more fun (and potentially more fulfilling) to do – fill in your own suggestions to the table below: (keep it clean!!)
| | | |
| --- | --- | --- |
| Trait | The Bowthorpe Oak | Jim Paice |
| Contribution to Community | See above | |
| Habitat for birds and animals | Yes | |
| Shade for humans and animals | Yes | |
| Food source | Yes | |
| Venue for parties and other needs | Yes | |
| Play area | Yes | |
| Used in medicinals | Yes | |
| Cost to nation/salary | None | Costly |
| Notable achievements | Yes | |

(Of course, you might want to add your own traits to the list. You might come up with more suggestions than we've presented here. Do tell us what they are. We'd love to know!)