A Public Forest Estate for the English cannot be allowed! Whilst forestry makes money, this money clearly doesn't go into the right pockets.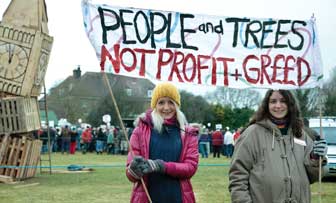 photo credit: Hands Off Our Forest 
Development in our public forests is about to commence on a large scale. The timing is perfect; just the right amount of time since the successful campaign against the sell off plans, time (at the taxpayers expense) to think long and hard in private as to how to how to make lots of money.
Meanwhile many of those involved in the campaign of 2011 have moved on. For some this has meant working further on promoting forests and trees.
The health and wellbeing a forest can provide, the 'family time' forests allow for, the 'back to nature' experience, the fact that people have an innate connection with forests (as proved by the campaign against the sell off), have provided a PR dream (again paid for by the taxpayer) to boost our love for our forests in order to sell them back to us.
Our love for forests – the time spent campaigning for them has been stolen to work against us.
A PR masterpiece? No – just absolute proof, should we need anymore, of how low politicians will stoop to in order to make money. So low as to even use a modern children's book character 'The Gruffalo' as a sales pitch for 'Forest Holidays'.
Forest Holidays is 65% owned by Lloyds Development Capital, 20% owned by the Forestry Commission and 15% by the company's managers. The Woodland Trust gains £2.50 for every booking made, buying off any objection to development plans by the WT – which have upset a host of other nature conservation NGOs.
So here we are again, about to start another campaign!
For more information and to sign the petition please visit:
https://you.38degrees.org.uk/petitions/forest-privatisation-by-the-back-door
"We want this duplicitous privatisation of the forests through the back door stopped these and any future major development in national forests be subject to independent Environmental Impact Assessments with binding outcomes. Rather than at present being at the discretion of local planning authorities who may be unfamiliar with the EIA process and more concerned about the resource implications than the environmental and ecological impacts"