by Pip Howard
Whilst proper protection of the English Public Forest Estate still remains in the doldrums, and will do so until the promised legislation is forthcoming, there has been tremendous progress on peripheral issues.
For whatever reason (and most of us have become far too cynical based on experience), the Government simply refused to exempt public forests in the text of the Infrastructure Bill. Promises clearly mean nothing at all in regards public forests. Recent pre-election PR from the LibDems spoke of a need for a trust for our forests, leaving many of us questioning where they were in 2011 when this kind of thinking was actually needed as well as do they know something we don't? We cannot allow public forests to become a political football and there is still much to keep an eye on and we promise we will be.
Forestry and Trees can no longer be said to lack the presence it deserves on social media anymore, but we can and probably should for our own sanity give up ever hoping to see fair coverage on general media. Since 2011 virtually all UK based forestry and tree organisations and many independent practitioners and professionals have taken to Twitter and other social media sites. The rapid spreading of a host of forestry and tree related material is fantastic to witness and most importantly it clearly illustrates that all of those involved in forestry and arboriculture very much care, as they always have, about the wider issues; biodiversity, public access, sustainability, etc., and most importantly the need to halt deforestation. Do not under estimate the influence this has towards a wider positive perception of forestry, particularly for all those in Europe.
The above may not be a solution, but it helps avoid conflict and halts spurious commentary which back in 2011 and before had infected, from roots to canopy, the whole of the UK forest industry. The words of Prof. Benght-Gunnar Jonsson, writing in September 2011 have now been realised:
"I am convinced that without a living discussion, based on facts about our forests, we will be less able to meet all contrasting goals. I am also convinced that we will never come to a final answer. This is not necessarily a problem since it is the discussion itself that is important."
The other momentous achievement has been 'Grown in Britain'. This William Wallace of the forest industry continues to gather up the troops, from their isolated farmsteads where they have been fighting a losing battle for so long, and created an army surely and steadily closing in on its objectives.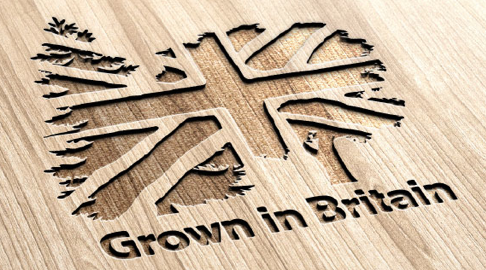 All our forests and woodlands need management. Forestry is a cyclical sustainable industry by default – it had lost its way here a bit, due to external pressures and blinkered thinking and this needed redressing. We need to tackle public consciousness in regards where our timber and non timber forest products come from and Grown in Britain is now at the forefront of this, further aiding the efforts of many of the other NGO's working hard to achieve this, such as the Royal Forestry Society and Sylva.
The excellent decision by Grown in Britain to include small woodlands is a huge step towards better understanding labelling as a whole. This is far from usurping international forest certification such as FSC and PEFC but a way of strengthening all, particularly important as we see no halt, indeed acceleration, of deforestation around the globe.
This decision allows the potential for the UK to have a two tier timber and forest non timber products market, which can only be good. It follows French terroir ideals, which more than anything else, have allowed real sustainable development to continue, adding considerably to rural economies. Indeed the French themselves have turned to terroir principles in regards many of their own forests, with the internationally recognised AOC (appellation origine controlée) label now being awarded to regional forest products.
Consumers will have no choice but to question themselves at the point of every purchase and this can only lead to a stronger forestry industry, so very important as large scale biomass is on the increase. Only time will tell whether this significantly enables us to revalue our massive wastage of timber, that which is going to landfill or burnt on compost heaps in gardens, but it is a very welcome signpost towards the right direction.
Read more articles on SoW from Pip Howard
http://saveourwoods.co.uk/?s=Pip+Howard