HANDS Off Our Forest is preparing for a surge of activity this summer, as the Independent Panel for Forestry publishes its final report into the future of forests.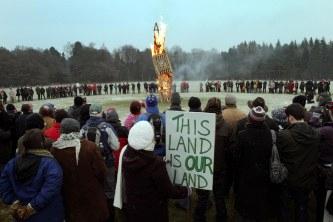 HOOF wants to ensure everyone in the Forest of Dean's demand to keep our woods publicly owned and publicly managed is heard loud and clear by the Government when the panel's report is published on July 4. The pressure group will have a stall at the Royal Forest Jubilee celebration at the Speech House Field on Saturday June 2, to help relay the message that the battle continues to ensure the Forest remains in our hands. The event starts at 2pm.
On Monday (May 21), members of the HOOF steering committee met at Beechenhurst Lodge with former chief executive of Forest Enterprise Rod Leslie, and environmentalist Robin Maynard from Our Forests – a ginger group set up to challenge sell-off plans, which includes HOOF chairman Rich Daniels.
The meeting discussed possible ways of involving the community to help safeguard the Forest of Dean in public hands for the future, and ways people could have a say in its running, and also future strategy for the HOOF campaign.
Mr Leslie said it was important to change the legal definition of ownership of the public forest estate. The Government has stated public forests, including the Dean, belong to the Secretary of State for the Environment, currently Caroline Spelman.
"We need the Government to recognise who the forests really belong to – all of us, rather than the secretary of state," he said.
On July 4, when the Government-appointed panel is due to publish its final report, the suspension of woodland sales is also due to be lifted. Outlying woods in the Forest of Dean could be among those of the 40,000ha, or 15 per cent, of woodland the Government has said it intends to sell.
Robin Maynard, who resigned his post as Forestry Commission England director of communications at Whitehall when it became plain that the government intended to dispose of the entire public forest estate in late 2010, said:
"The Government needs to know we will not tolerate any sales. They need to know that the 534,000 people who signed up to 38 Degrees opposing this plan, and grassroots campaign groups such as HOOF, haven't gone away."