On the 25th July the UK government announced continued subsidies for electricity production from biomass, which according to the UK government will help meet its renewable energy targets. The same day, Drax confirmed it would be converting a North Yorkshire power plant for using 'mainly biomass'.
The axiom that sustainable forest management provides a sustainable crop of timber does not equate with the quantity of fuel required to power the UK. There is simply no where near enough home grown material to burn and much processed material is imported.
But assuming the need for renewable energy is to actually tackle the carbon emission problem, biomass is not the answer in its current form as it doesn't negate carbon emissions let alone reduce them.  See Biofuel Watch's ROCS decision press release.
The commercial 'biomass' sector is still at a distance from the majority of the UK tree and forestry industry, and with subsidies added into the equation it places our forests at risk from serious exploitation, as well as lesser regulated forest industries abroad.
The lack of a wider standard value for 'woodchip' is a serious problem. Woodchip is a good sustainable product – waste from honest and necessary arboricultural operations, which can be used as a highly effective mulch for the horticultural industry allowing; an increase in soil carbon storage; the reduction of surface water run off; reducing soil consolidation and helping to regulate nitrate run off etc.,
Woodchip is often touted as an end product to bolster the financing of community woodland as it is also an excellent product for local domestic wood fuel needs.
So why do arborists struggle to sell, even give away this product?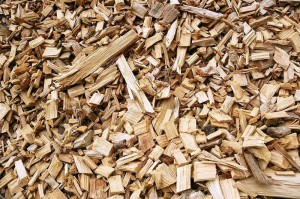 The vast majority of practitioners and contractors working with the UK's trees and forests are small businesses. However there are increasingly more companies who are not 'traditional' forestry companies but multi-service providers who must be able to compete with the smaller businesses, despite having higher administration overheads. They win tenders by reducing the labour rates dramatically as well as having secondary sources of income including woodchip sales.
It would be financially unviable for purchasers from larger scale biomass users, who enjoy substantial subsidies as well, to travel around collecting the smaller loads of woodchip. They need large outlets and the companies who provide such quantities are not the traditional small arboricultural teams but companies that include some of the subcontractors for Network Rail, accused of the stripping of vegetation and the habitats contained within them during nesting time.
Are our green corridors and other valuable green places being ravaged to supply the biomass industry, one of the few industries enjoying rapid and ensured growth?
Trade is far too loosely regulated. Traceability for ALL wood fuel is essential to protect not just the forestry and arboricultural industry, but all biodiversity in all landscapes and to ensure progress towards sustainable development is not compromised.
The biomass industry at present is not even close to real sustainable development. The lack of transparency seems deliberate and designed to allow a freedom to profit as much as possible as quickly as possible. How will the selling of 'biomass' as an element of the green economy sit with the British population when they learn that it is also responsible in the actual reduction in biodiversity.
Biomass and the woodchip market have the potential to be at the forefront of sustainable development; with long term management of areas such as those belonging to Network Rail for coppice, sustaining future needs as well as protecting biodiversity. But the power needs to be in the hands of the real forest and arboricultural industry, with the knowledge and qualifications to ensure it is genuinely sustainable.