Saraband Press are fully backing public concerns over the forest sell-off and have donated a copy of Woodlanders to help us spread the word to save our forests.
Save Our Woods very own Hen has a feature page in Woodlanders – so, you can learn more about how much she loves our forests!
Why are we running a competition?
We want to highlight a very pertinent point that could have an effect on how we all proceed now the consultation has been announced.
An extensive public consultation was completed 18 months ago and clearly showed an overwhelming majority of the public want the public forest estate to remain publicly owned.
Why are we having another one now?
We believe this consultation is a smokescreen to take the spotlight away from the Public Bodies Bill Clauses 17, 18 and 19 which will give the Secretary of State sole decision making power paving the way for a "disposal" of 100% of public forest land.
If the Public Bodies Bill (which is currently in the House of Lords – read amendments here) is passed into legislation ANYTHING we answer on the public consultation can be effectively ignored and our forests can be sold without debate.
That's why we're running this competition – so get tweeting!
How to Win
The 200th person to send the following tweet on Twitter will win a brand spanking new copy of this award winning book:
200th RT wins Woodlanders book! http://bit.ly/hZXRj9 We must STOP the PublicBodiesBill TO #SaveOurForests #STOPpbb #SOW
Retweet now to secure your chance to win the amazing Woodlanders book.
About Woodlanders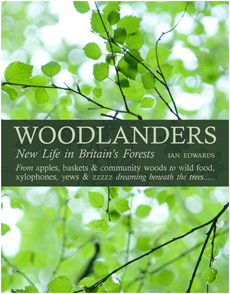 Woodlanders tells the story of people whose lives have been enriched by their engagement with wood and woodlands in whatever form they have chosen: through satisfying and valuable work in community projects; by working with wood to make useful, durable and beautiful objects, or for shelter; perhaps gathering woodland materials for craft or fuel uses or foraging for wild food from the woods; or promoting sustainable, low-energy lifestyles and preserving biodiversity.
Some have created opportunities for outdoor play in magical settings or simply encouraged kids to enjoy climbing trees and running around, while others have developed creative activities like drama, art or craft projects.
Woodlanders celebrates an emerging woodland culture.
Woodlanders is a wonderful reminder of where we come from, and of why we owe so much to the wood and the trees and the plants that sustain us. The UK's precious remaining woodlands need our interest and protection, and I hope the ideas and wonderful pictures in this book will encourage more people to get involved.
Hilary Benn

Fascinating. With every page comes yet another revelation of how woodlands work and how society depends on trees. A timely combination of inspiration and study for anyone intrigued by the mutually dependent links between society and woodlands.
Nick Gibbs, Living Woods Magazine