by Save Sandlings Forest and Friends of Thetford Forest
This is what forest users in East Anglia are telling the government – we want our public forests to be run and funded properly so we can all enjoy and benefit from them. Tell them what you think, too!
Sandlings forest users give their views
Save Sandlings Forests campaigners wanted to give people who visit our forests the opportunity to make it clear to the government that they care very much what happens to the forests they enjoy. The Department of Environment Food and Rural Affairs (DEFRA) want to hear people's views about the forests (DEFRA consultation webpage http://www.defra.gov.uk/rural/forestry/), but not everyone is aware of this – in fact none of the forest users we met had heard about it.
So we talked to people visiting Rendlesham Forest Centre on the Forestry Commission's Discovery Day 30 September. Over 50 people signed a letter to the environment and forestry ministers and nearly 30 added their own comments about how they value and use the forests and their concerns about funding cuts. We sent these letters off to DEFRA and the ministers.
This is the letter to the ministers from Sandlings forest users:
"I agree with the Save Sandlings Forests campaign that our public forest estate should be kept public and run by a properly resourced Forestry Commission.
So I am very relieved to hear that the government has agreed to keep our forests publicly owned.
But I also want to hear from you that our public forests will be run by the Forestry Commission and that they will be properly funded to do this.
I am worried that cuts in funding might have an effect on facilities or mean more charges.
I hope that we hear from you soon with a plan for our forests that will mean I can carry on enjoying them."
Here are some of the comments that people added:
"We love Rendlesham forest. Biking in the woods, making dens and enjoying the forest. It is incredibly shortsighted to remove the forest from public ownership via the Forestry Commission."
"We live in the town but love coming to the forest to get some exercise and fresh air. My son, age 9, loves the trails and open space."
"My family love coming to Rendlesham forest for cycling paths, Bike Park and play equipment. It's good for the children to be outside and it's a great environment for them."
"My family uses the forest regularly. We love cycling, walking and playing here – the facilities for the children are an excellent resource. It would be a great shame if these were not able to be maintained."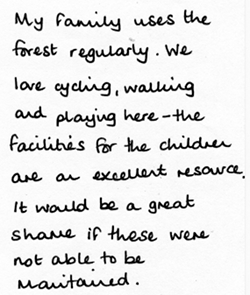 "Access to the Sandlings forests enables us to enjoy cycling, natural fauna and flora, and the 'great outdoors'. At Rendlesham, the Bike Park off-road facility provides our son with hours of happy, energetic exercise. This kind of facility provides outdoor community activity in a safe and enjoyable environment which we and others would like to continue to access."
"I have 2 young children and particularly like coming to the forest for a fun day out. My children benefit from the experiences of being in the forest – a wonderful learning opportunity!"
"Over a number of years, we have been coming here with our children and think it is important to retain them for future use."
"As a family we use public forest every other weekend for leisure and well-being. Don't take this away from us."
"I really enjoy the trees, their shapes and sounds. Cycling through the paths is so relaxing and relieves stresses, and 'recharges my batteries'. Lots of fresh air and appreciating the natural growth of trees and fungi and wildlife is an essential part of education of my children. Life in a concrete world would not be worth living! Keep the trees, look after them, treasure them, they are part of the 'circle of life'."
You can read all the comments in our Facebook note http://on.fb.me/SKhnSl.
Save Sandlings Forest campaign aspirations and concerns
Save Sandlings Forest campaign sent in a response to the forestry panel's report on the future of our forests (http://on.fb.me/Uw6cKu) with our aspirations for the future and our concerns.
We are particularly worried about the funding of the Forestry Commission to run the public forest estate (PFE). At the moment the government's spending review means that every year during this parliament there will be less money available to run our public forests. The forestry panel made it very clear that they felt that funding should carry on at least at current levels and ideally to rise, but the government hasn't taken the opportunity to agree to this yet.
Impact of funding cuts in Sandlings forest
Lucy Barnsley-Sadasivan, visiting the forest from Martlesham with Jothi and their three children Sidney (age 9), Jonas (age 7), and Nico (age 4), said:
"As a family who love to visit the forests throughout the seasons, we were very saddened to find out that one of the children's favourite play areas known as 'The Bird' had been taken away. With 3 very active boys the forest provides the perfect environment to unwind and connect with nature and a safe place for the whole family and friends. Long live the forest!"
The cuts in funding imposed on the Forestry Commission under the 2010 spending review are beginning to have an impact in the Sandlings. With staff retirements and redundancies and the transfer of Forest Services work to Thetford, the head count at the Sandlings Forestry Commission office at Tangham has shrunk by 50%. At the same time the staff supporting the PFE have had their beat extended – they now cover forests in north Norfolk and north east Essex as well as Sandlings. So there are many more times when the Sandlings Tangham office is shut while staff are working elsewhere on their beat.

The iconic Nightjar play sculpture ('The Bird') has been dismantled – a facility much enjoyed by mums and dads when they were children themselves. The nightjar is the signature bird of the Sandlings forest, and one of the things that makes the forest a special place for wildlife.
The Bird play sculpture had served two generations of visitors. However it needed some serious maintenance as some timbers were showing their age. Sadly it was decided it was cheaper to dismantle rather than replace the timbers.
We have also lost one of our way marked walks – the popular and lovely Daisy's Walk. Some pine way mark posts needed to be replaced, and again it was cheaper to pull them all out rather than replace posts as and when this needed to be done.
And, with the reduction of on-site staff in the Sandlings, there will be no Christmas tree sales at Tangham this year.
Discovery Day in Thetford Forest: Friends of Thetford Forest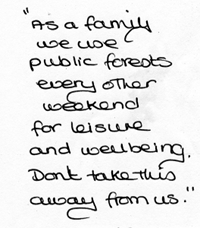 Friends of Thetford Forest organised the Forest Discovery Day at High Lodge Forest Centre and at Lynford Arboretum and did the publicity for it. The day drew twice as many visitors as usual at the end of September and a host of activities interested them in the trees, wildlife and archaeology of the forest.
More than fifty-five people signed letters to the Minister for Forestry, David Heath MP, calling for the Forestry Commission to be fully resourced in its management of the public forest estate. These letters were handed to him personally when he visited Thetford Forest the following week. In addition, Friends gave out information encouraging everyone to contact DEFRA and MPs with their views. There wasn't a single person we spoke to who didn't agree to support our campaign.
Here is the letter signed by Thetford Forest users:
"I would like to thank the Government for pledging that the Public Forest Estate will not be sold-off and for acknowledging its benefits in terms of the nation's timber resource and for wildlife, archaeology and recreation.
The funding of the Public Forest Estate is now of great concern to me. Currently, the Forestry Commission receives £20 million per year to manage our forests and woods on behalf of us all. I understand that a reduction is planned, to £14 million within three years.
This will mean that the Public Forest Estate will be unable to deliver all the benefits so praised in the Independent Panel's Report.
It will call into question the Government's true level of support for our publically owned forests and woods and its commitment to ensuring a well-managed, protected and enhanced Public Forest Estate.
As a member of the electorate and a supporter of the campaign against the proposed sell-off, I urge you to honour the Independent Panel's recommendation of £22 million a year for the Forestry Commission. This is incredible value for money. The Panel's Report states: 'Total benefits are ….. 20 times greater than the £20 million of net public investment' (page 53)."
Save Cannock Chase campaign
Save Cannock Chase campaign is also urging forest users who value their forests to write to the new ministers to remind them of our concerns and aspirations on their website www.savecannockchase.org.uk
Tell the government what you want for forests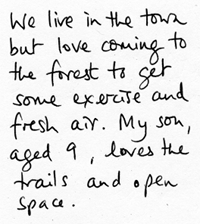 Tell the government what you want for England's forests for the future. You can e-mail them at forestryresponse@defra.gsi.gov.uk , or you can do the first of their surveys www.defra.gov.uk/rural/forestry/. But do it soon – they are due to respond to the forestry panel's report by January 2013 meaning they will have probably decided what they're going to say by the end of November.
Keep in touch with the campaign to save our forests
Join your local campaign or user group and keep up-to-date with what's happening in the campaign to save our forests.