Issued by Hen Anderson, on behalf of the FCN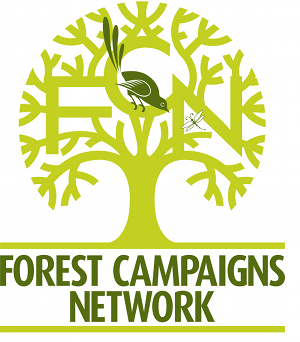 The Forest Campaigns Network (FCN) welcomes the ban on the import of Ash trees announced by the Secretary of State for the Environment, the Rt Hon Owen Paterson MP, in the effort to prevent the spread of Chalara fraxinea (ash dieback disease).
As with the once iconic Elm before it was all but wiped out by Dutch Elm disease, Ash trees are a huge part of our landscape and of our cultural heritage. Denmark has lost up to 90% of its Ash trees over only 10 years due to this disease. Up to last week it was found in the UK only in newly planted, imported trees, but alarmingly it has now been identified in both mature and young wild Ash trees in at least 20 East Anglian woodlands run by the Norfolk Wildlife and the Woodland Trusts. To date the Forestry Commission estimate they have burned almost 100, 000 Ash trees in the fight against the epidemic.
The FCN calls on ALL organisations – Government departments and agencies, forestry professionals and businesses, the horticultural industry, charities, forest groups and the public – to work together to fight this disease and protect one of our most treasured native species. FCN urges everyone to familiarise themselves with the symptoms of the disease by referring to the Forestry Commission's pictorial guide to the symptoms.
The crisis demonstrates again the importance of swift access to Forestry Commission expertise. It underscores the need to restore vital funding and staffing levels to the FC, to ensure its ability to research and take prompt action to conserve our natural heritage. The FCN calls on government to restore those funding levels and to initiate proper biosecurity measures for all plant imports.
The Forestry Commission is to launch a website – ASHTAG.ORG, where you can be part of the fight to combat the disease. Subscribe now to receive an alert when the site goes live.
In the meantime trees raising concern should be reported to the Forestry Commission Plant Health Service (tel: 01420 23000; e-mail: ddas.ah@forestry.gsi.gov.uk).
Notes to Editor
The Forest Campaigns Network (FCN) is a country-wide alliance of grassroots campaigns and forest user groups, formed on February 28th, 2011.
Contact: hen@saveourwoods.co.uk
Useful contacts and Information:
Further information, including the pictorial guide to the symptoms is available on the Forestry Commission's website at www.forestry.gov.uk/ashdieback.
Forest Research Tree Health Diagnostic and Advisory Service – tel: 01420 23000; e-mail: ddas.ah@forestry.gsi.gov.uk;
Forestry Commission Plant Health Service – tel: 0131 314 6414; e-mail: plant.health@forestry.gsi.gov.uk;
Fera Plant Health and Seeds Inspectorate – tel: 01904 465625; e-mail: planthealth.info@fera.gsi.gov.uk