In a short step away from trees, SOW is pleased to share with you London firefighter Simon Jakeman's inspiring story of The Great BiG Earth DiG!
This little idea developed when a group of neighbours, friends and relatives decided on a long cold night back 2009, it was about time we became more Sustainable and start growing our own fruit and veg. We had spoken about it before but we finally decided to go for it and put our name on the waiting list for our local allotment.It's within walking distance about half a mile away,so no excuses.

In the meantime and after being inspired by HRH The Prince of Wales' Dimbleby lecture, back in July 2009, I wrote a letter to Clarence House, 10 Downing  Street and the Mayor of London about developing a day to reconnect people back to the planet. I recieved an encouraging reply from Clarence House just before Christmas, which inspired me further. At the time the world was meeting in Copenhagen at a Climate Summit.
We were luckily enough to get a disused allotment plot, which hadn't been touched for many years, possibly since the war? It was over 120 feet by 20 feet and 20 feet high in brambles,trees etc. (more of a jungle!) which we slowly began clearing in the snow in January. We managed to get most of it cleared by March 2010. Our first Great BiG Earth DiG then began, in which we created raised beds ready for planting. One of the more experienced growers started creating a crop planting plan and rotation plan for future years! The rest were ready to work after the rallying cry of get out of bed, get your boots on and Dig For Sustainability. We also made some mock posters up for encouragement.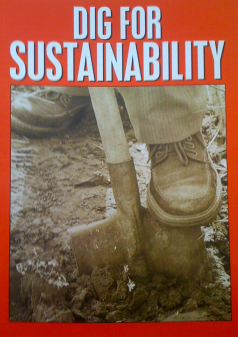 Over the first year, we all had our own jobs from weeding, planting, watering and not forgetting picking. Our children were involved at every stage. Most of us being complete beginners we just dived straight in. Growing strawberries, raspberries, cabbage, kale, brussel sprouts, tomatoes, rocket, sweetcorn, courgettes, potatoes, beans, spuds, onions, peas. sugar snap and not forgetting pumpkins. It was a year of hard work, but wow!! the amount of produce we shared was staggering. We had some great roast dinners together, the taste is unbelievable, and totally organic. You cannot beat growing your own. Getting back amongst nature has been the best part of it.
That was only our first year, but how rewarding. We decided to try and inspire others to join in their own way, in growing their own. The idea was then spread into our community via a local magazine and other communities via twitter and the creation of our website www.thegreatbigearthdig.co.uk. Since Harvest last year we have been so busy, more friends and neighbours have become involved. We've now got a couple of sheds and even walked a whole green house up to the allotment in once piece (glass removed).Also a little 'Club House Shed' with posters of bees,birds and butterflies was created so our children and friends can learn a little more about nature while digging.
At last year's Great BiG Earth DiG on Equinox Day,we tempted a few more friends to get their hands dirty.The temptation of a BarBQ at the plot helped! Extra produce was planted this year,beetroot,parsnips,leeks, squash and BLUE potatoes (Smurfies?) as well as King Edwards and Charlottes. By 2011 the word had spread far and wide, many others got involved from across the country from Kent, Lancashire, Blackburn, the Wirral, Devon, Cheshire, even the US and Canada.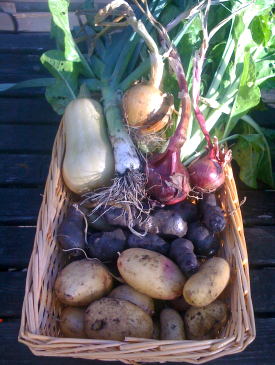 We even had mentions from Anne Diamond on BBC Radio London, Jeni Barnett, Ken Livingston and James O'brien On LBC which goes out to 300,000 people.
We also had great responses from B & Q, HRH the Prince of Wales Start Project, UK AWARE a sustainability life style exhibition, Edible garden show, Open planet ideas, Climate Week and Brighton & Hove Grow Your Neighbours Scheme. A poster was even displayed at the Bristol Nature Show. We then became a member of Capital Growth a London intiative to create 2012 new growing spaces for 2012.
This Enthusiasm even spread to our work places. I was allowed to put a few posters up at work..about Digging for Sustainability. I became the Green Champion at work, at the Fire Station. The London Fire Brigade have been training a Firefighter at each station to be more aware of climate issues and pass on the knowledge to other crew members. A conversation with my Station Manager about the creation of a garden on a disused flat roof, at the back of the station gave rise to us eventually growing our own fruit and veg. I created planters out of old car wheels by turning them inside out,old fire buckets were used and builders buckets all keeping in theme with the firestation.
We ended up growing a small amount of beans, toms, spuds, cabbage, figs, strawberries, kale. The once concrete roof devoid of all life became a little haven for wildlife with many different visitors popping along. I even created a small wildflower area. The other firefighters got involved by watering and one even added a small water feature. This year we ended up wining a competition and was crownded London's Greenest fire station! It ended up in the local press,with the press release going far and wide. A liitle bit of the "Good Life" had come back to Surbiton. With this success, I now have permission to create a few raised beds on the roof, for next year.
Alan Titchmarsh talks about how helping his grandfather on his allotment over 50 years ago when he was a chiild, encouraged his love for growing. I must thank my Grandad (a merchant navy sailor in WW2) for planting a little seed in my imagination when I was a young child, while pulling spuds, picking beans and digging in his veggie patch. This has now emerged in me, to be past on to my children. Just maybe Dig for Victory some how has been brought back to life after 70 years, into the 21st Century.
In these concerning times, let's get digging and have some fun..
The Great BiG Earth DiG
Is a day to inspire people on a local level to create a new space for growing their own fruit and vegetables on the first day of Spring, otherwise known as Equinox Day, 20th March. By growing your own fruit and veg a renewed awareness of nature's cycles may help a long awaited reconnection to the Planet/Mother Earth. On the Spring Equinox everywhere on the Earth has equal night and day. The Sun rises due East and sets due West at all points.
A day we can all celebrate the planet together, a day for community equality.
A day for true Sustainability?
Dig for Sustainability and produce locally grown food, helping to reduce your carbon footprint and save MONEY. It is hoped that this day may grow organically from the roots up, by word of mouth. You never know, it may grow into something BIG.
So get out of B.E.D, get your boots on and let's start digging!

If we all Reconnect we may start to Protect?
Its all Interconnected
by Simon Jakeman
Digger and firefighter
Read more articles by Si:
What does sustainability mean to me?