What a fantastic day! I've never been to Grizedale Forest before. After three weeks of hard campaigning, setting up and launching the website, tweeting like crazy to let as many people know about the Public Bodies Bill and the forest sell-off I needed a walk in the woods.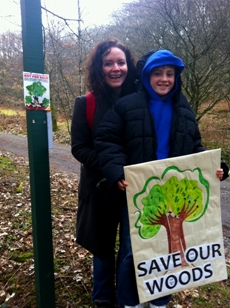 We parked at Bogle Crag car park and walked the last ½ mile to the Save Lakeland's Forests Rally. Car sharing with a friend and her son who'd made a fabulous poster together.
On the way were families, dog walkers, mountain bikers and one chap having an easy enough time of it on the excellent paths maintained by the Forestry Commission. There were wood sculptures dotting the landscape, metal sculptures of birds and insects, benches and covered seating areas – and this was before I got to the multi-building visitor centre.
I was ecstatic to see so many people milling around waiting for the speeches to start; babies in prams, mums and dads, grandmas, granddads, uncles, cousins, nephews, nieces, friends, colleagues, horse riders, mountain bikers, ramblers, hikers, campers – all there to say NO, we don't want ANY of our forest land sold.
I tweeted from the SaveOurWoods Twitter account to keep people unable to attend updated. Press photographers, reporters, TV cameras were recording the ambience and statements from the public as quiet chants of "Forest Are Not For Sale" came from the back. Then the kids took the call – it was their voices who were the loudest "SAVE OUR FORESTS, SAVE OUR FORESTS". I did wonder if Big Government would be able to hear the next generation of big society's voice!
Reports suggest over a 1000 people attended the rally – I couldn't get them all in on my phone camera and over a 1000 is probably a good estimate.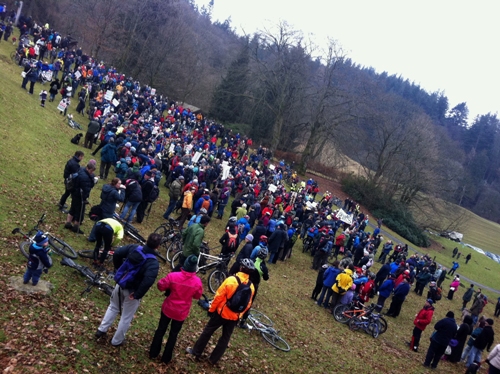 Lord Clark opened the speeches with a "This land is ours" but Tim Farron MP, despite saying "Of course I'm against selling them off" received a good amount of heckling.
I must say – I did my bit there too. When Mr Farron stated the Forestry Commission cost us £20million a year I had to correct him and shouted "15 million – 30p each a year". People heard. Well, it needed to be said.
Lord Clarke took the stand again pointing out that the increased subsidies that would be paid to new private owners would end up costing the taxpayer more money than the current status quo.
Then Eric Robson took the mic saying about the consultation "it's a sham, the shoddiest document". He also pointed out "the Forestry Commission have mended their ways" and was now a "centre of excellence" before finishing with a rousing call to "keep the pressure on". Oh, we will.
John Woodcock MP paid tribute to the protesters and said MPs need to wake up to the mistake they've made – the "Government have to govern with the consent of the people and they haven't got consent on this issue".
Then the least experienced of the speakers, Jack Ellerby, gave the most passionate speech of the day saying "this place is special" and the "woods are my spiritual home". He pointed out a sale would "turn the clock back" to conifer plantations as a cash crop for new owners and in the interest of profit "would private owners encourage biodiversity"? But he made what I feel is a most important point:
The Forestry Commission are paid by Caroline Spelman [with taxpayer's money] and can't defend themselves [for fear of losing jobs]. We must voice their views for them.
Lord Clark finished the afternoon by reading out a letter from the BBC broadcaster Stuart Maconie who said the plan was "petty, short-sighted and unjust…some things are worth more than money…our forests are not theirs to sell" and the Government can have "a fight if they want it".
Then the most amazing thing happened, I cheered as did all there when Lord Clark, Tim Farron and John Woodcock tore up the Public Bodies Bill.
A perfect end to a perfect rally. And followed by a walk in the woods back to the car, it turned out to be an inspiring, amazing and rousing day.
It's your turn now. Get out to your woods, take to the forests, make your voice heard. This land is our land and we must keep on fighting to make sure it stays that way.
Read Stuart Maconie's full letter on the Save Lakeland's Forests website.