by Hen
The weather this past few days has brought the woodlands alive! Full of bird song and snufflings, bees, butterflies, flowers and bud burst.  I've been exploring…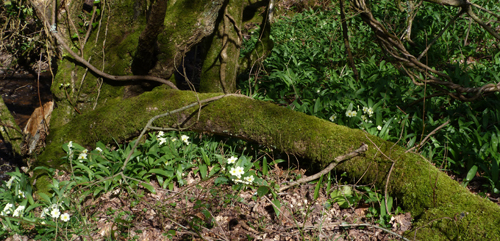 The woodland floor is bursting with life!  Above is Ramsons (Wild Garlic) and Primroses.  Even though the Ramsons and Primrose flowers were in abundance I stopped myself eating too many!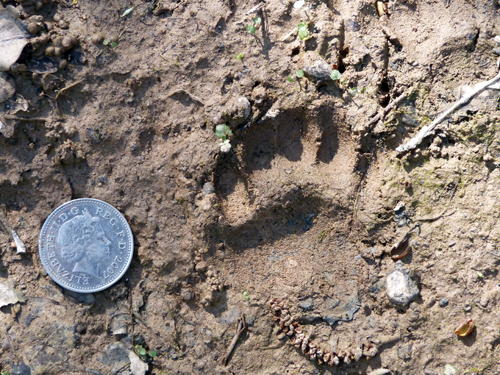 We followed these badger tracks, finding snurfle spots and latrines!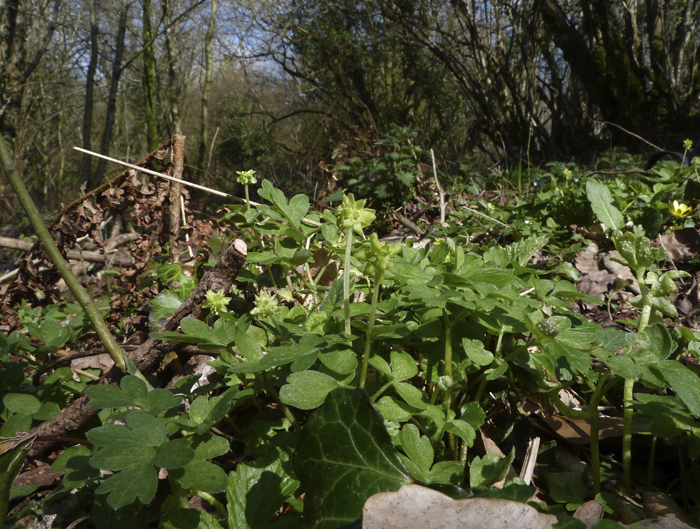 Above is one of my favourite flowers, Moschatel (Town Hall Clock). The five flowers that make up the flower head are positioned like the faces of a clock tower, hence the common name.  If you're lucky and come across a flowering bed of Moschatel do stick your nose in it, they have a subtle but intoxicating honey scent, not to be missed.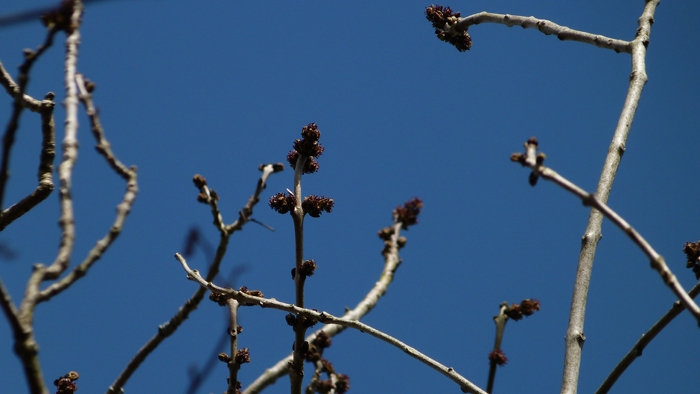 The beautiful flowers of the Ash tree. The flowers seemed symbolic to me and filled me with the hope that Europe's Ash trees will not be lost to die back, caused by the fungus chalara fraxinea. Foresters and tree lovers across the country are holding their breath, for it's not long now until the Ash comes into leaf and we will see just how many of our beautiful Ash trees have succumbed to this horrible disease.

The Forestry Commission have created 'Tree Alert!' for people to record any sightings of tree pest and disease.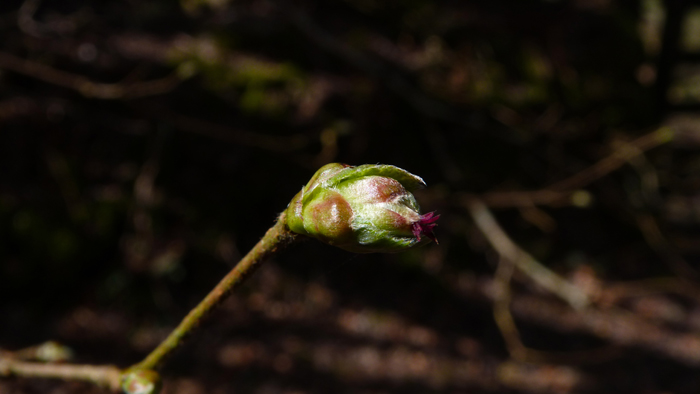 It's always exciting to find the female flowers of the Hazel. I think because they're so exquisite and small & you have to rummage in amongst the twigs and branches of the Hazel to find them. The bud above is doubly exciting because it's just about to burst!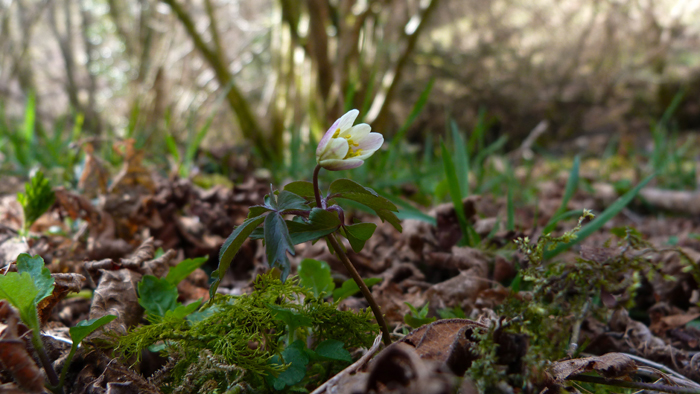 This Wood Anemone or Wind Flower is a beautiful little marvel. She is the only Wind Flower in this entire woodland, well she was until this year… now there are four flowering stems! This woodland has been un-managed for about 80yrs and needs thinning, it was also heavily grazed by cattle and sheep for many of those years. The work of gradually thinning the woodland to let more light in and allowing the land to rest from heavy grazing is showing inspiring results, with the return of ground plants like whortleberry and wind flower, cow wheat, wood sorrel and blue bell and all the invetebrates that come with them.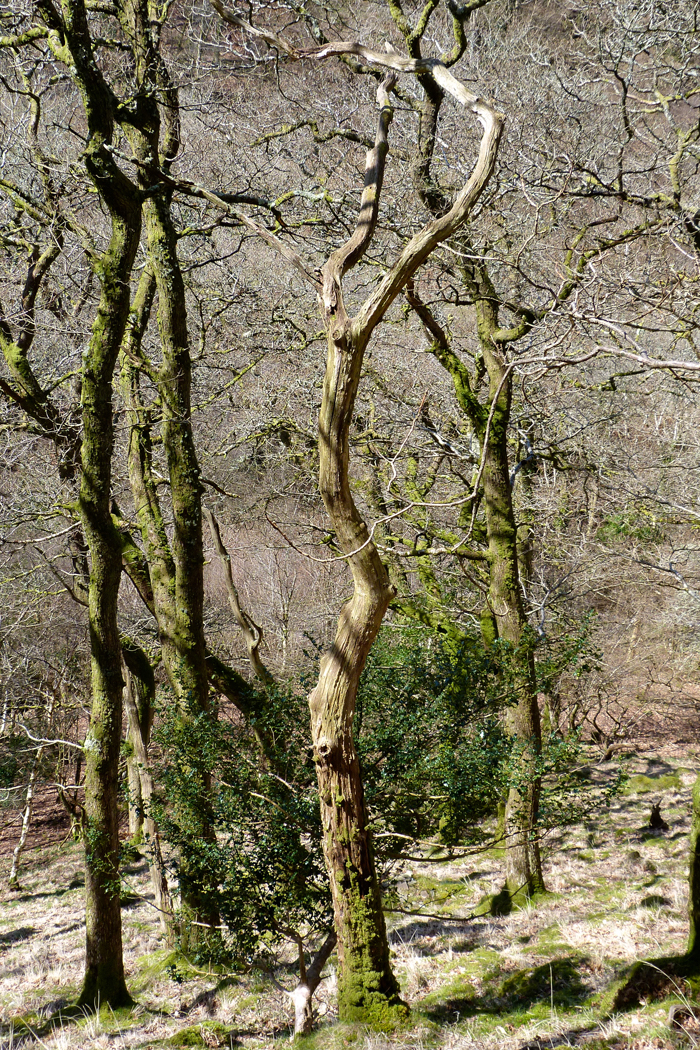 Part of managing a woodland is making decisions about what to leave. Trees like the ones above & below are so important for the diversity of the woodland. Diversity breeds resilience.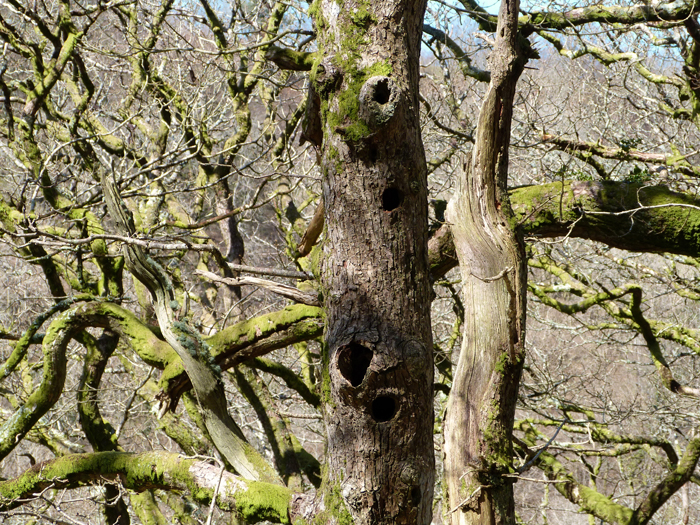 Although it would make amazing firewood it is far more valuable to the invertebrates, Willow Tits, bats, Wood Peckers, Owls and myriad of other creatures, plants, fungus and bryophytes that make up a healthy woodland habitat.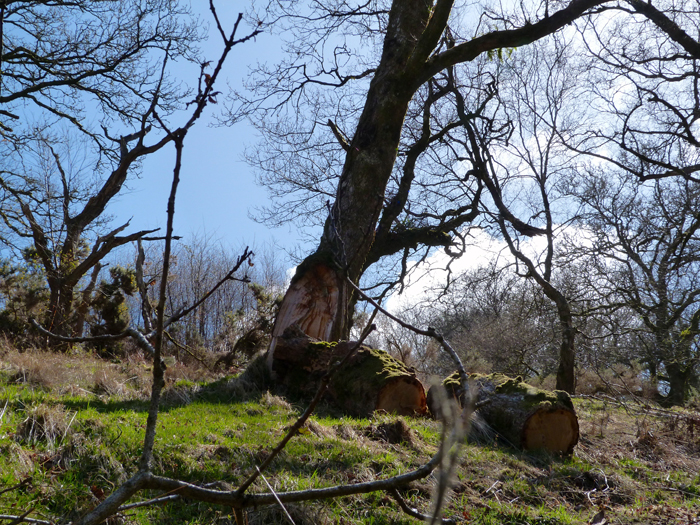 This forked Oak tree split early last year.  We've processed a lot of it into firewood and logs for green wood working. We're going to plank those lumps of Oak in the picture above. They're not going to make the longest or straightest planks in the world but we can make very good use of them for our small building projects. We'll be building a long cupboard, shaped to fit along the wall of our yurt, a table and as many other things as we can!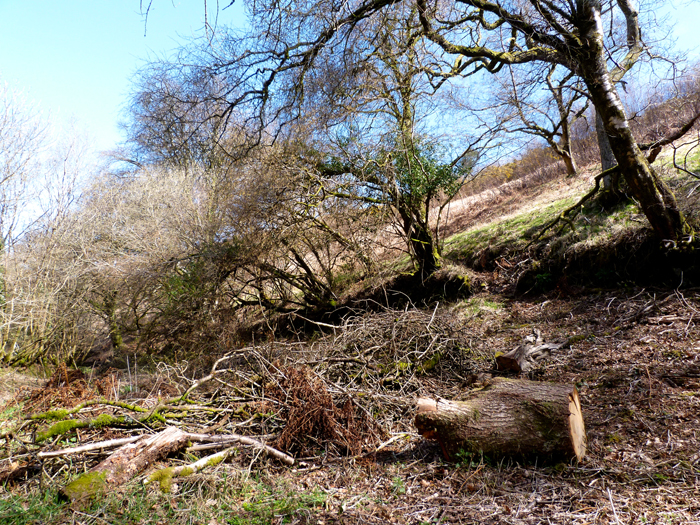 It's hard to make out in this picture but as with all trees we harvest, whether we've felled it, or we're foraging from a fallen tree or coppicing, we always make wildlife piles from the brashings (twigs and small branches) and leave some bits of the thicker stems to rot down where they fell.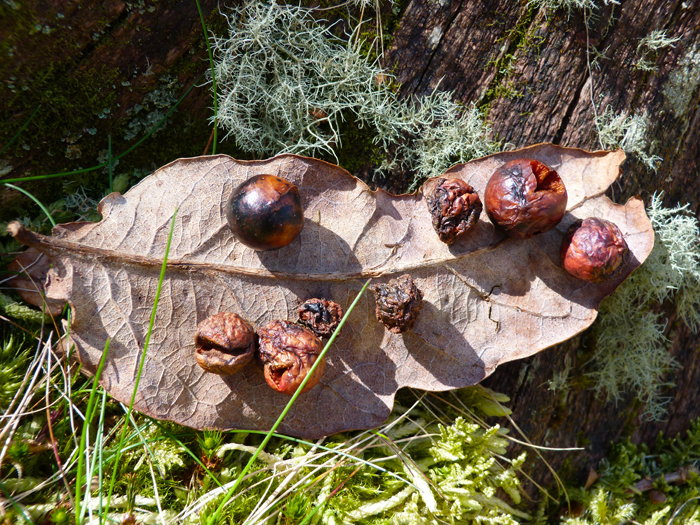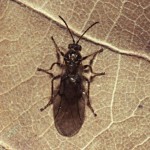 There's lots of colour in the woods but not always from flowers…
These Oak cherry galls are caused by a wasp called Cynips quercusfolii  (Andrew Whitehouse from BugLife was kind enough to ID them for me, thank you!).
The vibrant Spring sounds and colours of the woods made my day and were a strong medicine after the strains of an eight month winter. If you get the chance, get out to the woods and have your own explore!

Cynips quercusfolii photo credit: http://en.wikipedia.org/wiki/File:Cynips_quercusfolii.jpg