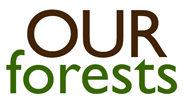 The Bishop's report – like the Curate's Egg – very good in parts, with some 'runny' bits…
Robin Maynard, coordinator, Our Forests said,
" The Panel's report offers reassurance on many, but not all, of the concerns of Our Forests and the many grassroots campaigners and forest community groups who stood up for their patch of our public woods and forests – forcing the Government to halt its disposal plans.
It is particularly welcome to see our number one demand endorsed by the Panel – namely, full and lasting protection for our public woods and forests – in their proposal that the Public Forest Estate be held in trust for the nation under a new public 'Charter'. Yet despite making several references and citing strong evidence as to the tremendous 'value for money' of the Public Forest Estate in delivering public goods and services, some worrying language has slipped in – bearing the hallmark of the free-market ideologues in the Cabinet Office and Treasury.
The public goods delivered by the Public Forest Estate are obvious and multiple and are far in excess of the costs of providing them – so why not support their delivery via the public purse?  Given that's what nearly 90% of people said they wanted in a recent poll [1].  The Panel's reference to "Appropriate new  funding streams", sounds worryingly like a coded message for some ideologically-driven PFI for the PFE.
Our Forests congratulates Bishop James and the Panel on a sound starting point, but Our Forests and grassroots campaigners and forest community groups across the country will remain vigilant as to how the Government acts on their recommendations. For us the campaign to protect our woods and forests for everyone for ever has just begun."
Why have the public fought so hard for our trees and forests? Our Forests has created an inspiring 1min film to explore… Trees are in our Blood
Trees are in our Blood by Our Forests
Trees are in our Blood by Our Forests.
Our Forests drew-up 6 Criteria for Success by which to assess the Panel's recommendations & any follow-up statements & actions from Government:
OF Criteria 1: Public ownership & lasting protection of the Public Forest Estate to be secured through new legislation.
Panel comments/recommendations: "We propose that the public forest estate should remain in public ownership and be defined in statute as land held in trust for the nation. A Charter should be created for the English public forest estate to be renewed every ten years"
OF assessment: Excellent – an unequivocal statement supporting the need for a public body of woods and forests for the nation and one that is separated from short-term political meddling. There is also a very welcome mention that there should be a 'stakeholders' consultation on an annual corporate plan' and that any new forest management organisation should have the people at its heart:
"At a local level the public forest management organisation should see consultation and partnership with friends' groups, charities, businesses and others as central to its way of working, benefiting from their experience and helping to draw in additional resources to support local projects."
This is very welcome, although Our Forests is aware that the Forestry Commission's engagement and consultation with local community groups and stakeholders is already exemplary as enshrined in the mandatory Forest Design Plans.
OF Criteria 2: Confirm principle of on-going public funding for the Public Forest Estate (at no less than current levels).
Panel comments/recommendations: "We fully believe that if these benefits (public benefits/ecosystem services) were accounted for on a natural capital balance sheet then there would be no question over continued investment by Government."
OF assessment: This seems to support the principle of on-going public support for the Public Forest Estate – and the Panel goes on to point out that the Government provided 8 times the public funding (£160m) to 'improve' just 9km of  the A453 as is needed to fund the management of all 1,500 woods that make up the Public Forest Estate annually (£20m).
However, the Panel's report and its recommendations bear the mark of having been subject to pressure from the dominant free-market ideology that pervades both the Cabinet Office and the Treasury: "We believe it is important for the managers of the Public Forest Estate to be able to explore appropriate new funding streams…"
Despite acknowledging that the markets to deliver those public benefits don't exist as yet and additionally that the public benefits delivered through the Public Forest Estate outweigh the costs to the taxpayer by a factor of at least 6 times.
If the Public Forest Estate is so obviously delivering a broad range of public benefits at such low-cost to the public purse (38p per person, 90p per household annually) why seek to deliver them via complex, as yet unproven 'market' and private finance arrangements – unless that impulse is driven by political ideology?
OF Criteria 3: No further disposals of woods from the Public Forest Estate until it is fully protected under new legislation.
Panel comments/recommendations: Unclear. No specific mention re: preventing the 15% of the Public Forest Estate that was already up for disposal & only held back from sale 'pending' the Panel's report going back onto market. However, Panel does recommend that "sufficient funding must be made available to avoid the sale of woods and forests simply to enable the annual balancing of the books…This reduces the value of the public asset, and is unsustainable." Whilst the subsequent statement by the Secretary of State, Caroline Spelman does say, "While we will consider our detailed response we will continue with the general suspension of sales of estate land" – that is not an unequivocal confirmation that that 15% of the Public Forest Estate is protected from sale.
OF assessment: We accept the principle of the Public Forest Estate being adjusted through minor disposals, assuming the whole is protected and on the basis of re-investing in new and equivalent areas of woodland that can better deliver public benefits. But we remain concerned and unclear as to the Government's intentions re: that 15%.
OF Criteria 4: No further cuts to the budget and staffing of the Forestry Commission.
Panel comments/recommendations:  "We believe that the current Forest Services is woefully under-resourced for the vital job ahead."
OF assessment: Panel does not refer to the impacts on delivery that the current round of cuts is already having i.e. 21% cuts in staffing at Forest Research (vital for the science and understanding of how to manage the increasing range of pests and diseases threatening our forests) or the reduction in Forest Rangers across the Public Forest Estate and hence a reported reduction in oversight and provision of public services on the ground.
OF Criteria 5: A firm commitment to double the extent of the Public Forest Estate and increase England's overall woodland cover to 15 – 20% of overall land area.
Panel comments/recommendations:  No specific mention of increasing the extent of the Public Forest Estate – even though the Panel acknowledge that, "The Public Forest Estate delivers public benefits that go beyond those we anticipate from private woodland owners…" However, the Panel does call for an increase in England's woodland cover from 10% – 15% by 2060.
OF assessment: Good to see that planting target set and that the principle and practice of sustainable management should be delivered on private woodland as it is currently across the whole Public Forest Estate.
OF Criteria 6: New measures to bring all woodland into good management.
Panel's comments/recommendations: Proposes target for Government to increase private woodland that meets sustainable management standards from 50% – 80%.
OF assessment: Bringing the 82% of England's woodland closer to the standard of management practised on the Public Forest Estate is vital if we are to deliver on public aspirations for our trees, woods and forests, as set out in Our Forests' Vision document.
Further information please contact: Robin Maynard, 07932 040452
Notes to editors
1. In  a survey carried out for Our Forests on the views of 38 Degrees' supporters, nearly 90% of respondents felt that the Public Forest Estate merited on-going taxpayer support – with over 65% of those prepared as taxpayers to contribute at least £5.00 annually with 32% willing to see taxpayer contributions of more than £10.00 per year. See: http://saveourwoods.co.uk/our-forests/public-ready-to-rise-up-again-if-government-fails-them-over-public-woods-forests/
Our Forests was formed to ensure that the views of the more than half a million people and myriad grassroots groups who rose up in opposition to the reprehensible plans to sell-off or otherwise dispose of the Public Forest Estate in England are fully understood and taken into account by the Coalition Government and its appointed 'Independent Panel on Forestry Policy'. Individual members, in alphabetical order, are:
Hen Anderson (Co-founder 'Save Our Woods', who also runs a smallholding and woodland on Exmoor);
Richard Daniels (Chair of the grassroots campaigning group Hands off our Forest (HOOF) in the Forest of Dean);
Dr Gabriel Hemery (chartered forester, cofounder and Chief Executive, the Sylva Foundation);
Tony Juniper (independent environmental advisor, campaigner, writer and former Director of Friends of the Earth);
Rod Leslie (former Chief Executive, Forest Enterprise);
Robin Maynard (environmental campaign consultant);
Jonathon Porritt (Founder Director Forum for the Future and former Chair of UK Sustainable Development Commission).
Trees are in Our Blood – Our Forests film, kindly created by Snowline Films